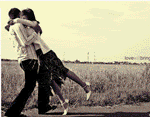 TGIF!!! And not being superstitious myself, it doesn't matter that it's Friday the 13th! Many times when a Monday is a holiday (next week President's Day), then the Friday before will be a "training holiday" in the military, so Thomas has today off from work! BUT!! Bella still has school today. So that means...
WE HAVE THE WHOLE DAY TO OURSELVES!
WOOO HOOO!!!!!
So we are having Date Day instead! Some shopping (yay!), lunch at Atlanta Bread Company (YAY!), and either a movie or um....something else!! (YAY YAY YAY!!!) I'm so excited!!!! So share your plans for today/tonight, OR one of your bestest dates, OR your dream date. And don't forget that tomorrow is Valentine's Day!! Be sure to get or make something special for those people in your life that mean the most, ok?